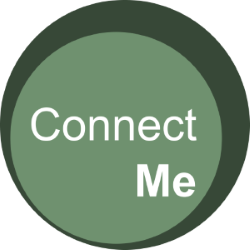 What is Connect Me?
Connect Me is the new name for a variety of services or options which may be offered as a means for an individual to interact and communicate with their healthcare professionals. Some of these services were known by various names in recent years such as Remote Health Pathways; Remote Health Monitoring; Home and Mobile Health Monitoring or Telehealth. These are available using several digital platforms including national and local systems.
When we have asked the public and patients about how they might feel about using these services, they tell us they want to feel more connected, not so remote. Using words like 'remote' and 'monitoring' can be off-putting for some people. Yet when people do use these services, many find them to be empowering, reassuring, and much more convenient.
It is for these reasons, and having listened to feedback, that the name is changing to Connect Me.
Although using new branding, some existing services and options will remain the same and others are being improved.  The number and types of services and options available are also being expanded.
The Connect Me service uses a person's own simple devices and sometimes small basic medical equipment to enable individuals to share information with health care professionals and/or automated monitoring services. This helps them to safely self-manage their health needs from home or wherever is convenient for them.
This section of the website is under development.
Introduction
This section of the website is for members of the public and is under development.
The use of simple technology has become part of everyday life for many and can also be used to help better manage our health needs. It enables people to have more choice and greater flexibility about how and where they manage their health and wellbeing. It is safe and secure to communicate and connect with NHS healthcare professionals in this way, and it still ensures high standards of care are offered. It also promotes self-management.
Individuals with conditions such as high blood pressure, asthma, and diabetes, often tell us that when they are feeling good, they do not wish to be reminded of their condition. Yet traditional models with follow-up appointments at fixed intervals do just that. It, therefore, risks people having to attend an appointment when they are feeling well and misses opportunities to respond when their conditions flare up.
There are over one million GP appointments per year in Scotland just for measuring blood pressure
This short animation tells you more about how services and options provided through Connect Me work.
Benefits of Connect Me
Attending appointments is often inconvenient and not always necessary, with alternative access available via Connect Me.  With the right advice and support, many individuals can manage their condition on their own (self-manage) and know when and where to seek appropriate help. The services are widely used across NHS Scotland and beyond.
The Connect Me approach is proven to support people with their health and wellbeing from a place that is most convenient such as home or work.
To enable communications and securely share an individual's health condition and information, the Connect Me services can be accessed via a secure website, a mobile app, text message, or automated phone call.  In general, an individual will need a telephone (landline or mobile) and for some services, they may need access to a computer, laptop, or mobile device which has internet access.
Sometimes individuals will be asked about their symptoms and how they feel. For some conditions, they may also be asked to record and share readings such as blood pressure or peak flow, using NHS approved equipment. It will be offered by a healthcare professional.  It is not yet possible to self-refer to Connect Me services.
Exactly what will be needed will depend on what the individual has been referred for.
If you need monitoring equipment, it will be provided by your NHS health care professional.
Why Connect Me?
Improved patient experience of service by providing reassurance that  health indicators are 'normal'

Improved access to services for those most in need of them

Providing new options for people to connect with their healthcare providers

Supported self-management of some health conditions

Improved longer-term outcomes

Reduced travel and associated costs

Reduced absence from work, education, caring duties, and other commitments by not having to attend appointments

Reduced exposure to infection

Easy, free, and convenient to use
Connect Me can be used to manage your healthcare needs safely from home, often reducing the need to attend frequent appointments
Connect Me is currently being used to support people including those with asthma (secondary care), blood pressure, chronic obstructive pulmonary disease (COPD), irritable bowel syndrome, and symptoms of COVID-19.
This section of the website is for members of the public and is under development
Please click the links below to find out more about our National Monitoring Services.
Blood Pressure (BP) - coming soon

Heart Failure - coming soon

Coronary Obstructive Pulmonary Disease (COPD) - coming soon

Asthma - coming soon

Irritable Bowel Syndrome (IBS) - coming soon

Undernutrition - coming soon